Listen to Jim:
http://redclaydiary.com/mp3/thesandpaperrazor.mp3
or read on…
The Sandpaper Razor Meets the Theo A Koch Barber Kid
I'm riding the Theo A Koch automatic barber chair, watching the barber foot-pump his metal and leather instrument higher so that he can get at my neck, the neck of eight-year-old me. He has already draped my shoulders and torso in a checkered cloth to keep the hairs he's about to trim from hiding under my clothes and making me all itchy.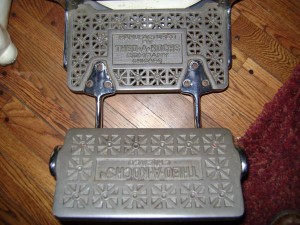 The barber is efficiently cutting away while continuing his running conversations with various customers who sit in a long row of chairs facing the Theo A Koch chair. They talk of fishing and hunting and politics and street repair while thumbing through current issues of magazines like Argosy, Esquire, Field and Stream, Collier's, Look, Life, Saturday Evening Post.
The shop smells of old cologne and talcum and working class sweat.
I squirm impatiently while the barber plies his trade, his scissors and electric trimmer flashing in the sunbeams that cause the rotating candy cane pole to cast its shadow across my shoes. I gaze at my shoes because I'm required to lower my head while lather is applied to my neck. I read and re-read the Theo A Koch brand name embossed in nickel plated sheen between my feet. The freshly-stropped straight razor makes sandpaper sounds. I cringe, waiting for the barber's hand to slip. It never does. But it might.
What is that after-shave perfume the barber laves on my neck? What is the name of the talcum powder he dusts on my neck to ease the fresh-shave sting? I don't understand the ritual of shave and talcum and fragrance and hair tonic, but I do know that I will not feel like I've really had a haircut unless I walk away smelling like something other than a real eight-year-old lad.
The barber dramatically takes away the checkered cloth the way Dracula might swirl his cape. I take my feet off the Theo A Koch brand. The shoeshine man swish-brooms the back of my shirt in an elegant gesture of manners and politeness. I walk past the rotating candy cane pole and onto the sunny streets of downtown Tuscaloosa, a brand-new kid ready to face a brand-new afternoon.
I don't know whether the magazine-thumbing grownups ever tip the barber, though they do tip the shiner of shoes. Kids are not expected to tip, so I get to spend my extra dime across the street at Woolworth's for the best bag of popcorn I will ever eat…until the next haircut
© Jim Reed 2014 A.D.