or read on…
.
THE DIAPERED CIGAR-SMOKING SOLDIER BOY TALKATHON
.
.
The small asbestos-shingled 2 ½-bedroom bungalow on Eastwood Avenue is still the hub 
of our universe, back here in 1954 or so—the hub of the family of Frances and Tommy 
Reed (my parents) and their kids, mainly, Barbara Jean, Ronny, Rosi, Tim and me. These 
days, our worldly holdings are still modest. About all we have is each other, so we make 
do with that for the time being.
Summer is a time we all still get stuck together within the same walls now and then, and 
this is one of those days. Later on, we find less and less time to joke around, our 
innocence being so fleeting, but today we are lucky.
.
One thing my older sister, Barbara, and my Mother, Frances, love to do more than 
anything you can name, is talk. I mean, really talk. And not to us younger kids, either. 
Barbara and Mother like to talk with each other. It's a mystery that I can't solve, 
but these two can both talk non-stop in unending sentences about everything 
under the sun. They kind of feed off each other.
.
Being a teenager, Barbara is excited and 
apprehensive about everything in her world, and, being an extrovert, likes to talk it out. 
Mother, still remembering how much fun and worry she herself had as a teenager, is eager 
to re-experience her life through Barbara as well as guide her past the potholes, should she 
stop talking long enough to listen.
.
It becomes a silent joke between Ronny and me, how Barbara and Mother, once they get
to talking, are oblivious to everything and everyone around them. Barbara's usual 
disdainful comment, whenever she notices that one of us underlings is trying to say 
something, is, "Oh, just ignore them. They're just trying to get attention!" When I hear her 
say this, I feel guilty for trying to get attention, like it's a vanity or a sin or something, but 
years later, when infant Tim has become a full-grown adult, he puts me at ease by saying, 
"Yes, of course we were trying to get attention," as if to say, "what's wrong with that?"
.
But right now, in 1954, I don't have the benefit of Tim's wisdom, since he's a toddler
walking around the un-air-conditioned house in a safety-pinned cloth diaper.
.
Whenever Ronny and I mention this talking thing to Barbara or Mother, they deny that 
they talk a lot or that they don't know what's going on around them when they talk. 
So, Ronny and I one day decide to take some action to prove our claim. 
.
My grandfather, Robert McGee, always smokes these great-smelling cigars, and when he
visits, he usually leaves a few for my father to enjoy. My uncle Buddy McGee, a World
War II hero, has left us his medals and military regalia, including his army cap. Ronny and
I gather the cap and the cigar and a box of wooden matches and find toddler Tim in the
kitchen, where we prepare him for the Big Talk Test.
.
Barbara and Mother are in the living 
room, sitting at opposing walls, and chatting away. We hand the cigar to Tim, who gladly 
places it in his mouth, mimicking his father and grandfather. We place the army cap on 
Tim's head, which delights him, since he's usually not allowed to play with our toys. 
.
Then, we light the cigar and make sure it's puffing plenty of smoke. The deed is done, 
then. All we have to do is tell Tim to walk across the living room, between Mother and 
Barbara, and into the den, on the pretense of fetching something for us. Tim obliges and 
toddles straight across the hardwood floor, cigar in mouth and soldier cap on head, diaper 
hitched up safely and bare feet padding softly.
.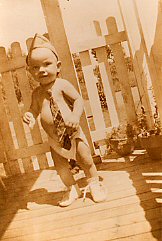 .
Not only do my sister and mother not miss a beat in their excited 
conversation, they don't even look down to see Tim. We know this, because we're 
peeking around the plaster wall to watch the action.
.
The experiment is a success, but we haven't created the commotion we hoped for. Later,
we tell Barbara and Mother what we did, but they don't believe us. "Oh, you're just trying
to get attention," Barbara says.
.
Yes, we are. And I guess we'll always be doing that, Ronny and me, only this time we are
joined as adults by sister Rosi and brother Tim. The attention and attentions of Barbara 
and Mother will always be in demand. Mother's been gone for years now, but Barbara has 
taken up the slack and talks to us, her kids and grandkids as much as ever, only now, 
we're all grown up enough to know that what she's talking about is important. 
.
And maybe sometimes we wish we had a lot worth talking about, too
.